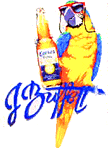 Jimmy Buffett
Jimmy Buffett is practically a god.
If you don't know who he is,
you're gonna find out!
---
Jimmy Buffett is one of the world's greatest musicians and performance artists. His career spans several decades, with hundreds of songs on the hearts and minds of his fans, the self-entitled "Parrot Heads". I first became a Buffett fan during the summer of 1993, while working at Sand Hill Scout Reservation. Seeing as we were located in the middle of Po-dunk, Florida, there was little to nothing to listen to on the radio. Nobody had had the forethought to bring any music, so we were left to listen to a tape of "Jimmy Buffett, Songs You Know By Heart" day in and day out for 6 weeks. The thing is that Jimmy Buffett's music is such an eclectic arrangement of sound and culture, that the more you listen to it, the more you love it!
---
Some Audio Clips of My Favorites
---
Some Jimmy Buffett Links

The Jimmy Buffett Parrot(t)head Page
The Jimmy Buffett Gazetteer
Jimmy Buffett's Margaritaville - Key West
Nerd World : Jimmy Buffett
THE SPOT- Jimmy Buffett Page
Jimmy Buffett
Key West The Official Margaritaville Store
Jimmy Buffett
Parrotheads United
Domino College: Jimmy Buffett
Jimmy Buffett - The Great Lyrics Compilation
Following the Equator: Jimmy Buffett
THE Jimmy Buffett Website
Bank of Bad Habits
Parrot Head Club of Eastern Massachusetts
Parrot Heads in Paradise
---
---
Some words of wisdom from Jimmy